Barcelona looks very different from any other city in the world. The reason is Antoni Gaudí. Gaudí designed many of the famous buildings in the city. There is the Sagrada Familia, Park Güell, La Pedrera, and many more. They really are marvels of architecture and rest assured that you will see nothing like these place anywhere else in the world.
As I am walking past these magnificent buildings, I am wondering if is is worth the effort to travel thousands of miles, and stand in line for hours with a sea of tourists to stare at these cathedrals, buildings, parks and monuments of historical importance. In the old days, and by old days I mean much before I was born, I would say yes. These days we have so many travel shows and the Internet, I feel like I already know what everything looks like. Don't get me wrong, I love walking past these building, but I wouldn't pay money and wait in long lines to check a box. I would much rather hang out in the streets, the bars, the random stores and maybe talk to some people. Anyways, I'm not one to judge, I know next to nothing about art. You do you, my friend.
Why this rant? Barcelona is an asolute-f*ing-ly great city with a lot to do. Unfortunately, it is overrun by tourists** who want to do very touristy things. Results in long lines everywhere that I am sure the locals hate. 🙂
So when you get here, and you must get here, maybe try doing some of the less touristy stuff as well. You might learn a little bit more about the city. And learn a little bit of Spanish before you come here. Even though, the local language is Catalan, everyone here speaks Spanish. A little bit will take you a very very long way and make your trip much more enjoyable. Duolingo is a great app for learning languages. That's how I learn my Spanish. 😉
Think I've rambled enough… so we're here to talk about food… right!
1. The Tapas
Tapas is the only way to eat in Barcelona. Tapas are very small plates of food, just a few bites. 3-4 tapas is usually a filling meal. Now that I've told you stuff that you already knew, let me tell why I think tapas are so great. The obvious reason is you can order multiple plates and try different things. The real reason why tapas are so f*$#ing delicious is, small portions sizes allow cooks to make food with intense flavors. If you were eating a whole plate of something very flavorful after a few bites your taste buds might tell you that it's too much or you'll stop feeling the intensity of flavors.* So tapas are great because they are intensely flavorful and you get to have that first bite feeling multiple times over the course of a meal. 🙂
Where should I get these tapas?, you ask. There are thousand and thousands of tapas bars in Barcelona, unfortunately not all of them are good. Here's a tip… Don't eat in the touristy areas. the food is most likely going to be average and it's going to cost you an arm. To eat great tapas you should try out some of the restaurants in the Poble Sec area. Poble Sec is fast becoming the food district of Barcelona. You'll find great tapas bars that offer absolutely fantastic tapas at very reasonable prices. And I think you should be eating tapas and small sandwiches every meal here.
So try out as many as you can. My recommendation: Quimet y Quimet (QyQ)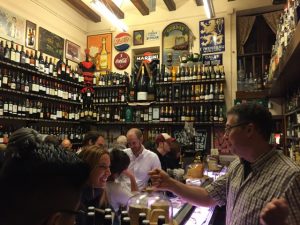 I need to take moment and fantasize about Quimet y Quimet… Okay, now that is done… This was by far the best meal that I had in Barcelona. We asked the owner (in the pic above) for his recommendation and he smiled and said "Get Anything!". Usually when someone says that, I get the feeling that this person does't really care about the food and that the food is probably going to be whatever. Not true for this guy, his expression was like "Get anything, you will be blown away regardless of what you get." Which turned out to be very true… Anthony Bourdain came to this place, you should too.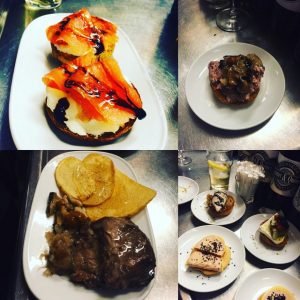 I can't help it, I will tell you to get one thing for sure…
The Salmon Yoghurt Truffled Honey. It is heaven on a plate.
Okay one more, get the Pork cheek as well! And get a Blanco Vermouth to drink here it is very good.
For an expensive albeit great tapas experience, you should definitely try out Tickets or Bodega 1900 (also a vermouth bar). For a meal at Tickets you have to book your table exactly 2 month in advance. Both are run by the Adría brothers, who ran ElBulli, made it the best restaurant in the world and promptly shut it down in 2011. Everyone thought that these guys had lost their minds. Long story short… the bothers move to Barcelona and start opening great local restaurants which offer Michellin caliber food without the price tag. They also own Pakta, Hoja Santa, Niño Vejo (pronounced: Ninyo Veho) and are about to open Enigma. These guys are probably responsible for putting the Pablo Sec neighborhood on the food map. (I might have heard this from Anthony Bourdain, I'm clearly  Bourdain fan.) Anyways, the brothers are famous for molecular gastronomy and haute cuisine and I'm not really trying to cover that form of cooking on this trip. Regardless, I think everyone should definitely try it when they are in Barcelona. Get to any of their restaurants and just ask your server for their recommendation. They do a suggested menu where they will pick things for you and you get a pretty comprehensive tasting experience. Will set you back by about 100 Euros per person.
2. Vino and things made from it
Wine is very good in this part of the world. Needless to say, so is the vermouth and sangria which are made from local wines. QyQ and some other places make their own vermouth. Must try!!!  Just say "Una copa de vino/sangria/vermouth" for whatever you want.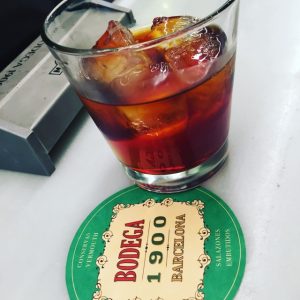 3. Pinchos or Pintxos
I knew about tapas before coming here. I discovered and fell in love with Pinchos. Pinchos are even smaller than tapas, and served on a small piece of bread. Here is how it works.
Step One: Get to a pincho bar.
Step 2:Order a beer.
Step3: You will see many plates of food.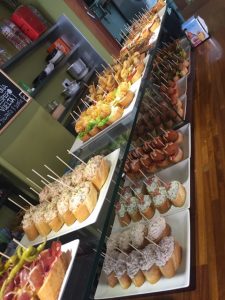 Step 4: Ask for a plate and pick up whatever looks good.
Step 5: Eat the said pinchos!
Step 6: Keep the sticks that come with the pinchos.
Step 7: When you're done eating many many pinchos, hand over the sticks in your plate or a cup to the server/bartender.
Step 8: Your server/bartender will count the number of sticks and ask you money. Pinchos are usually 1 euro each (at the right places).
Step 9: Pay your bill.
Repeat this process, as many times as possible!!
The street that I would highly recommend for Pinchos and maybe even good Tapas is Carrer De Blai in the PobleSec/Paralel area. Get yourself to Carrer De Blai on a weekend or any evening around 8pm. the Street is lined with Bar where you can find great tapas. Hop from bar to bar trying the best looking pinchos with a cana or stay at one and have 5 or 6 and you'll be pretty full. For 1 Euro per pincho! My recommendations: Pincho J, Tasqueta de Blai, Taberna Blai Tonight are all very good. You can try out the other places as well. They are all good. 
4. Ordering a Beer
BTW here is how you order a beer: "Una Cerveza" or "Una Caña" (pronounced like: canya). Caña is the way locals drink beer. If you ask for cerveza you will get a large draft beer and if you ask for Caña you will get a small glass of draft beer. So why get the smaller beer… you will always be drinking cold beer… Genius!
5. Local Food Markets
Right in the middle of La Ramblas you will find La Boqueria.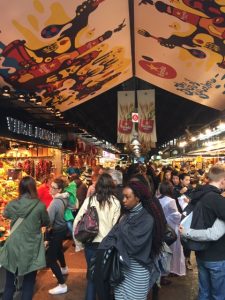 Walk around try some of the fruits and juices. The mangoes here are amazing! MUST EAT!!
Find a Jamon (ham) shop that sell you small slices of ham and cheese in a paper cone.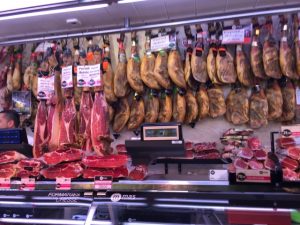 Try some of the tiny food places where they are cooking something in front of you. I would avoid the places that sell puff pastries like empenandas. They look like they would be very good, consider yourself warned, there isn't enough filling inside so that's definitely a tourist trap.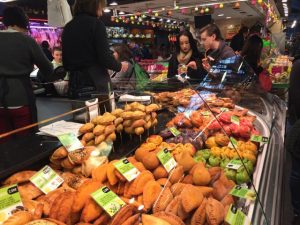 La Boqueria is a little touristy, even so, you can find great food if you look just a little bit deeper.
In my search for amazing food, I found myself at the Santa Caterina Market. If I was living in Barcelona, this is where I would come to buy my produce and groceries.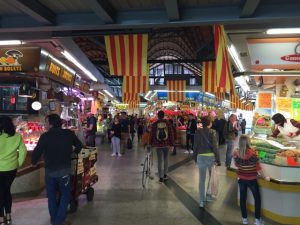 This place is very local, you're not going to find too many english speaker here. But you should try it out for some great food at non touristy prices.
There is this place called Joan Bar inside the market. They make an amazing Paella (pronounced: Pa-ae-ya) and some really solid Tapas. For me, this meal was next only to QyQ in all of Barcelona. You can also try some of the other restaurants that line the sides of the market. I've heard good things about them.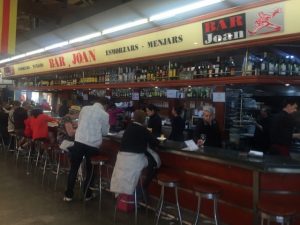 Paella BTW, comes from Valencia… I think it is hard to find great Paella in Barcelona. Pro-tip: Avoid eating paella or actually anything at tourist trap places on Las Ramblas and other touristy streets. The food is going to be bad. You will find frozen paella and bad tapas. Even if you find a spot where the food is good you'll be paying a lot for it.
Also, most places in Europe, if there are pictures of the food on the menu, avoid at all costs.
I'm sure you're still wondering, what type of food should I order when I come to Barcelona at all of these tapas/pinchos places? 
Jamon y Mariscos (Ham & Seafood). The ham is incredible here, eat it in any of the many many ways they prepare it. Make sure you try the thinly sliced ones. And all the different type of sausages are very good as well. The blood sausage and chorizos are great.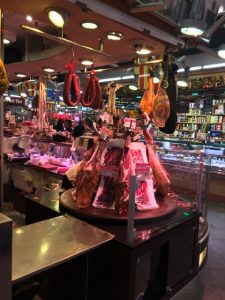 The sea food is solid as well.
You can also try dishes with eggs in them. Anything that had runny scrambled eggs was very tasty. I don't think I tried any chicken here, I'm sure its pretty good as well.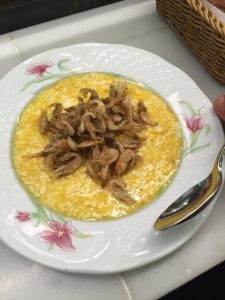 Things not food
If you are in Barcelona and the weather is nice, make it a point to visit the Barceloneta beach. The water is a beautiful shade of blue. Its not the best beach in the world, but its a beach. Enough said.
Also, visit the Magic Fountain (preferably with a loved one, at night, its pretty romantic).
Hang out in the Evening in the El Born neighborhood, Carrer Ample has a great crowd in the evening. Speaking of the evening. People here work till pretty late because of the afternoon Siesta… evening means 7pm that's when you'll find locals hanging out at bars and restaurants. Oh and try to get some nap between 2pm and 5pm everyone is doing the same thing and many places will be closed. 🙂
Barcelona is a great city, just walk around the city everywhere and you'll see great things, experience amazing food and meet very nice people.
*I want to give credit to my friend Van, (we went to QyQ together) for this realization. Van: If you read this, you're the man!
**Jenna – Stealing this from you. You're awesome too!
Final note: A special shout out to everyone at HostelOne Ramblas: You guys are awesome! You are the nicest people i've hung out with of all the Hostels and hotels I've stayed at!