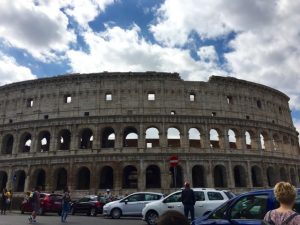 When you're in Rome, there is no end to the number of historical monuments that you can see. First there's the big ones… Colosseum, Pantheon, Trevi Fountain, Piazza Navona, St. Peter's Basilica, Sistine Chapel…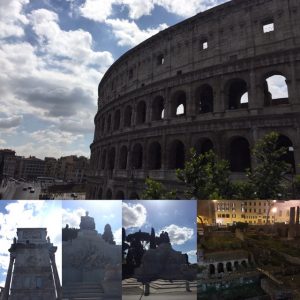 and then there are hundreds of smaller piazzas, ruins, fountains, churches and statues. By all means, see as much as you can… the architecture is pretty magnificent. You're probably not going visit Rome too many times… so you have to check off as many from your list.
Rome isn't just full of places to see, there is a lot good food to eat as well. Many of the Europeans that I have met, seem to think that Italian food is the best in Europe. I don't necessarily agree with that notion but the food is unquestionably good.
Statutory Warning: In order to eat well in Rome, you must throw your health consciousness out of the window. Most meals here will involve dangerous amounts of carbs, cheese and, red meat. Not to mention, the sugar in all the gelato that you're going to eat. Consider yourself warned, now let's talk about the food.
Panini
In order to eat well in Rome without spending a lot of money you have to move a little bit further away from the tourist areas and get to Testaccio, where you will find all the authentic trattorias with home style Italian cooking made with ingredients bought the same day from the Testaccio Market.
If you do get to Testaccio Market at the right time (before 3pm), you will be rewarded with the best Panini in the city of Rome. Look for the food stall called Morde e Vai (Box #15 inside the market). While you are at Morde e Vai, ask for this snack called Palpate de Bollito which is a small meat cutlet that will make you dreary, dull life feel like rainbows and unicorns.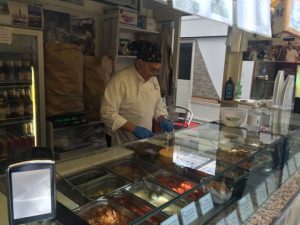 Pizza
If you want to hang out in a trendy neighborhood for dinner, hip bars and nightlife, look no further than the Trestevere neighborhood. The food in Trestevere is pretty solid, if you know where to eat. The area is lined with nice bars to hang out after a filling meal.
For a great sit down pizza in Trastevere, I would head straight to Dar Poeta. The lines are long so get here early but trust me, the pizza will be worth it. I got here after a very filling antipasti and thought that I'll just eat half of a pizza but finished all of it in no time.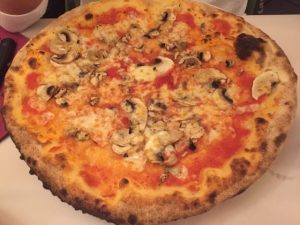 Here is a pro-tip on ordering pizza in Rome… don't ever and I mean ever order your pizza from a place that has "pizza" in the name or has a big board outside that says pizza with the price displayed on the board. You'll do much better if you look for a "Pizzeria".
Pasta
If you are tired of eating Pizzas and Panini, try out another Italian classic… yes you guessed it right… the pasta… You can go to Grazia and Graziana in Trestevere and try some of the best Cacio e pepe (cheese and pepper spaghetti) as you antipasti. Followed by whatever secondi you choose. Its all going to be very good.
Understanding Italian eateries and the menu/ordering: So you can find yourself at an osteria, a trattoria or a restorante. Osterias are small local places that provide a very limited menu with some wine and beer. They usually have a cold plate where you can choose from the daily updated items on display. There will also be a hot plate, usually a pasta of the day. The food is cheap and very traditional. Trattorias are a little more elaborate than an Osteria… they will have a full menu which includes aperitivo (aperitif) , antipasti (starters or appetizer), Primo (first main course: usually pasta or soup),  Secondi (second main course: meats, seafood or veggies), Desserts (self-explanatory) and Digestive (coffee or a post dinner drink). This is usually a lot of food and you don't have to order every course, just pick what ever you like (in the right order… or not) and enjoy.  
Street food options
Pizza al taglio (by the slice)
For a great midday pizza by the slice (Pizza al taglio) you can head to Pizzarium if you're close to the Vatican or Antico Rosciolo if you are somewhere near Campo di Fiori.
Suppli
Suppli is another great midday snack worth trying when you're in Rome. Go to Supplizio near Navona or Trappizino if you are in Testaccio or Pizzarium if you're close to the Vatican. Suppli is a deep fried ball of rice and bologna sauce with oozy cheese in the middle. Very good.
Trappizino
Trappizino is a relatively new form of street food (i think)… a thick piece or triangular bread cut from the middle and filled with meat. I personally thought this one had way too much bread in it, try it if you want to carb up.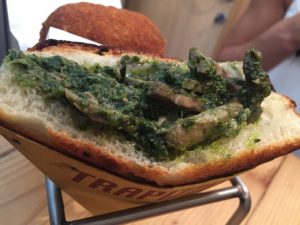 Porchetta
There is also the Italian roast pork or Porchetta, that is served as a sandwich or by itself depending on where you're eating.
And for dessert… Gelato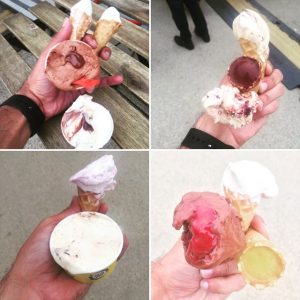 This is a big one… no trip to Rome or anywhere in Italy is complete without some good Gelato. I tried 15 flavors of gelato in Florence at one go. Warning: You can find a lot of bad gelato in Rome. I am no expert on gelato so I will point you to someone who has tried a lot more gelato than I have… check out this post on the best Gelato in Rome here.
In Summary 
Rome is a city for every type of tourist. The history, architecture and art buffs can go crazy here. The nightlife is a lot of fun in Trestevere.  And for people like me… you can experience some excellent Italian fare. I think Italian food has travelled by the most. So much so that now its hard to think of pizza and pasta as Italian. You can find high quality Italian cooking in most parts of the developed (or not so developed) world. So don't be surprised if the food feels familiar. Yes, you've had great Italian food wherever you're from. In Rome it's just going to be a little bit better.