I can't even begin to describe how beautiful Croatia is. As I make my way the along the seaside, I have to admit that I have never so awestruck with the scenery before anywhere else in the world.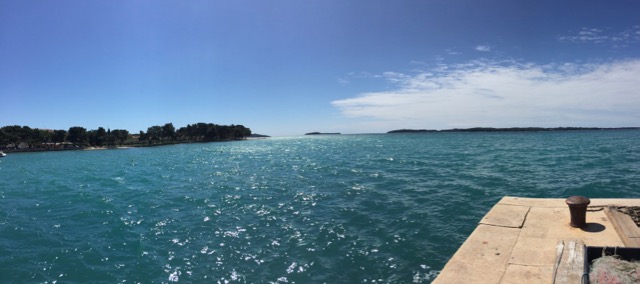 You will sea beautiful blue waters and tiny islands that will be lush green or will be completely white as if they are made of marble. Most cities have an old town where all the tourists and some locals hang out.

During the days these cities are full of tourists from the cruise ships but as the cruise ships sail away in the evening the tourist crowd is replaced by the locals and some travelers that are spending a few days in the cities. Mainland isn't the only thing to see in Croatia. No trip to Croatia is complete without a visit to some of the amazing islands that the country has to offer.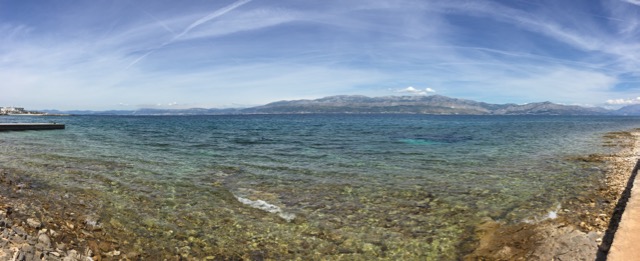 I started in the north region of Istria and made my way down to the south heading to Montenegro, spending my time in Pula, Zadar, Split, Hvar and Dubrovnik. I also made some day trips from Split to the island of Brac, Plitvice and Krka National Falls. All of Croatia is very beautiful and you must keep at least two weeks to really enjoy it. I would also recommend hiking, biking and kayaking when you are here. Another great way to visit Croatia is on a sail boat. I didn't get a chance to do go sailing since I got here a few weeks before the start of the sailing season. I guess there's something left for next time… Actually there's a lot left for next time.
"Wait, isn't this is food blog", you say… Yes, it is!
Croatian cooking is regionally diverse. The primary differences are between the coast and mainland. Since I spent all of my time around the costal region, I will stick to talking about the coastal food. If you are visiting Croatia, you will do the same (with the possible exception of the capital city of Zagreb). The coastal cooking is influenced by Mediterranean, Italian (Roman and Venetian) and Greek cuisines. And since Croatia used to be a part of Yugoslavia, the food is also heavily influenced by neighboring former Yugoslavian region.
It is very easy to find great meals at reasonable prices in most of Croatia, with the exception of Dubrovnik and even Split to some extent since both cities are very touristy and expensive. As a general rule food outside the old city walls is going to be cheaper than inside. But you don't have to worry about it in smaller towns. There isn't a lot in terms of street food in Croatia with the exception of Burek which is absolutely amazing… but more on that later.
Without further delay…Here is my list of the must eat dishes in coastal Croatia:
1. Tuna Steak and Tuna Tartare
Tuna fishing is taken pretty seriously in Croatia. They have tuna fishing tours I think (insert ROLF smilie). The tartare is obviously raw (just in case you didn't know) and tuna steak should be had medium rare or medium if the chef prefers cooking it that way. You will never look at tuna the same way after this.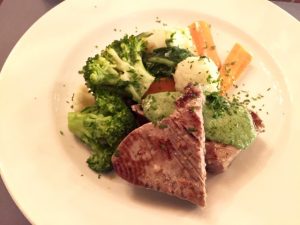 2. Black Risotto with seafood/shrimp
I absolutely loved everything that had squid ink it. To me squid ink tastes like the hint of the sea, slightly salty and very slightly seafoodish. And it's deep black in color. Hard to find food that's just black, has a certain je ne sais quoi about it… if you know what I mean. Cooked together with some creamy white wine sauce, shrimp and rice, the black risotto is just so smooth.
3. Grilled Chicken, Pasta/Gnocchi (…or really anything) with Truffles
Croatia is one of the few places in the world where you find truffles. Just like tuna fishing, you can go truffle hunting in Croatia from October to January. Truffles are added to many pastas and risottos in the region. It really hard to describe what they taste like… but it adds a certain earthiness to the dish. I know, I know… there is a big snob factor attached to truffles. Personally I very easily live without it in my food. But if you're in this part of the world, they are not too expensive so you should definitely try them.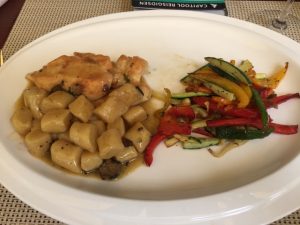 4. Ćevapčići
A very common traditional food, Ćevapčići is quite simply grilled sausage without the skin. Kinda like a seekh kebab. Its good. try it when you're here.
5. Pašticada
If you like your beef stew you should try the Croatian version. Cooked for hours with red wine and vegetables and herbs. It is at the end of the day like most other beef stew dishes from around the world. But if you're craving some gravy and meat, this is a pretty good way to go.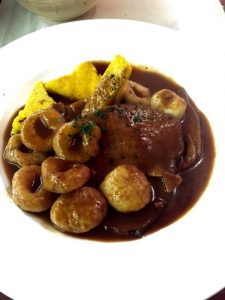 6. And last but not the least… Burek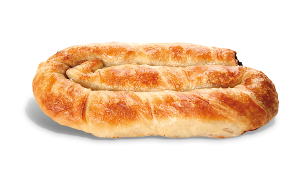 Probably one of my favorite thing to eat. Go to a bakery and get your self a meat, potato, spinach or cheese burek. This is a type of a puff pastry and is delicious and very hard to make. You're not going to find them in most places in the world. Burke and coffee was my standard breakfast while I was in Croatia.
Pass me that bottle
You can easily find many different types of local wine depending on what region you are in. I tried some.. they were good not great. Dink it if you like wines… you're not going to be disappointed. For me personally, it was a much more interesting and unique experience trying the local spirits. In all of the balkans everyone and their cousin distills some form of spirit and infuses it with some type of fruit. Talk to a bartender about what they are making and how they are making it and you will find yourself getting a detailed lesson on making spirits while drinking some or a lot of it.
Where am I eating all of this food
Since I'm covering all of the costal Croatia in this one blog. I will mention the places that I ate at that were really good. I did a decent bit of research and asked a lot of locals about where to eat. You should try some of these when you're here:
Hvar – Dalmatiano… By far the best service in all of Croatia with amazing food) This might be the best restaurant in all of Croatia.
Pula – Orfej… great food right next to the old town.
Zadar – Pet Burnara and Restaurant Bruschetta are two of the best places to eat in Zadar.
Split – Bokeria, Trattoria Bajamont and Uje oil bar are all very good but not the cheapest.
Dubrovnik – Barba is cheap and amazing which is nearly impossible to find in the city. Taj Mahal I've heard serves great food that is not Indian but is not cheap.
That's all for now, till next time…