Must Eat Summary
Doner Kebab: Try the Doner Kebabs from all around the city, but you must eat at Mustafas Gemüse Kebab for one of the best doners in the city.
Currywurst: Curry 36, Curry 61 and Konnopke's Imbiß are the three most popular places to get your currywurst fix. My personal favorite Curry 61.
Meat and Falafel plate @ Dada Falafel is amazing.
Beer: Traditional beer halls such as Max & Moritz and contemporary one's such as Brauhous Lemke serve excellent beer with some great food to boot. Bonus: It is legal to drink beer on the streets, so make the best of it.
Burgers: Burgers may not be traditional but they are surprisingly very good. Try at The Bird or Zsa Zsa Burger.
After the fall of the Berlin Wall, in 1990, the reunified city allowed its people to express themselves freely. Artists, musicians and creatives from all around Europe flocked to the city to put their mark on Berlin.
Berlin is not the most modern city in Europe, signs of industrial development and big corporation aren't too great here. Probably a result of late reunification (only 26 years ago).  Thankfully, I'm not here for work. I'm here to have some fun, and Berlin my friends is a lot of fun.
Berlin is a fairly cheap metropolitan compared to the rest of Europe, which is why it's really cool to live here, specially for all the creatives who are not interested in a traditional 9 to 5 job. People party here till the wee hours in the morning (actually more like late in the morning) every day of the week. House, Techno, Trance and EDM is a way of life for the young here. The city is full of nightclubs that open at 11.55pm and stay open till late in the morning. Some will serve you breakfast as well. 🙂
Short clip from inside an underground club in Berlin… (No photography was allowed obviously)
3am is a good time to hit the clubs, and no trip to Berlin is complete without a visit to one of the many internationally renowned clubs of the city, even if you're not into the whole EDM scene. You can't get a sense of the city without dancing till 6am to some very high quality electronica (is it still called that? I wouldn't know). I don't think people sleep here… I've not seen any other city where people are chugging Redbull like they do here.
I haven't been able to sleep before sunrise since I got here, and most of my dinners have happened way past midnight at some small street food joint. And I wouldn't have any other way!
And that's what I'm really here for… the food. So let's cut to the chase and talk about food.
I'm sure before coming here you'd think that the one thing that you must eat here no matter what is the Currywurst. But you my friend would be wildly mistaken. The one cuisine that you must try here is… (drumrolls)… the Doner Kebab!
1. The Legendary Doner Kebab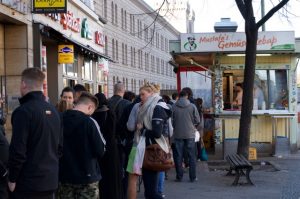 Mustafas Gemüse Kebab makes a killer Doner. This place has a cult following so be prepared to wait in line for a while… it took me 30 mins but I've heard that in the summer the wait can be much longer but it is justified. The cooks wait for the meat to get evenly crispy every single time before they shave it off the vertical rotisserie which makes all the difference. The doner kebab tastes so fresh with the meat, potatoes and the salat (salad) mixed together and so minty… Yes, the addition of mint to the kebab makes it different than most other places.
But you know what don't just go to Mustafas for your Doner fix… try it at smaller street side stalls and mini turkish places like Royal 44 Gemüse Kebab (44 Schönhauser Allee). I had the Durum Kebab there which was equally good. Durum kebab if you're wondering is the same thing as a Doner Kebab but in a turkish wrap. Must try as well!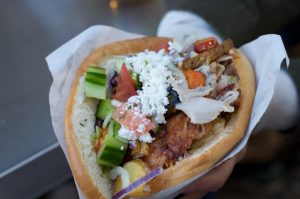 Moving on from the Doners…
2. To the Currywurst…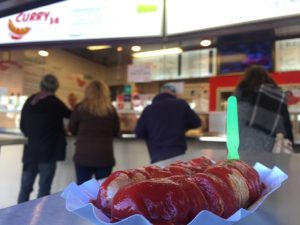 Currywurst is pork sausage first steamed then fried with some ketchup and curry powder on top. The ketchup is curry flavored as well. If you've come all the way to Berlin, you must try it at least once with Pommes (Fries). Though, I'm not sure how much you'll like it. I tried the 3 most recommended place for currywurst… Curry 36, Curry 61 and Konnopke's Imbiß. My favorite was Curry 61 (Oranienburger Str 61). To put it simply the currywurst at Curry 61 tasted the most curry like.
3. Dada Falafel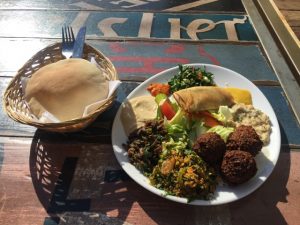 Another must try cuisine in Berlin is the falafel and meat plate @ Dada Falafel (Linienstraße 132). You can get the Dada Teller (teller = plate) to taste everything. The time and care the owner gives to each plate he prepares is a joy to watch. The combination of the creamy hummus, creamier eggplant, crispy falafel, slightly sweet meat and the spicy sauce is amazing. The couscous salat adds the perfect balance to the fried and grilled meat and falafel.
And the bonus…
The German Burgers
Here's an unconventional suggestion… you should try a burger while you're in Berlin. The burgers here are very different than what you would get in the US or anywhere else… You can check out The Bird or Zsa Zsa Burger and you won't be disappointed.
Street Food and Flea markets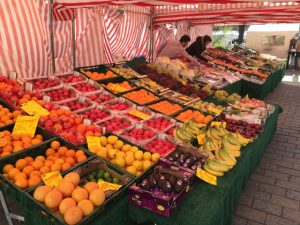 Berlin has many small flea and street food markets on certain days of the week through summer… The biggest one is at Mauerpark on Sundays from 9 am to 6 pm. If you're lucky you can try your hand at some Karaoke as well. You can also check out Thai Park (Fehrbelliner Platz) on Saturdays and Sundays if the weather is nice. Thai women from the neighboring areas set up their pots and pans on the ground and cook some excellent Thai fare for you.
A somewhat recent addition to the street food culture is Street Food Thursday at Markthalle IX. The market was closed by the time I got there but I've heard great things about it.
Brauhous (Beer Halls)
Beer flows freely in Berlin. People openly drink beer all hours of the day, even on the public transport system. Try it (specially if you're from a place that has stricter open container laws), it feels like mini rebellion. 🙂
Speaking of beer, Berlin is definitely not short on beer halls and beer gardens with some pretty decent traditional german fare. Some places are more contemporary than others like the Brauhous Lemke. But I like my beer halls a little more traditional, which is why I went to Max & Moritz (Oranienstr. 162) for my last dinner in Berlin. In the mood for something traditional I tried the Sauerbraten (which was very very good btw) with unfiltered beer. If you want a taste of something traditional and authentically German you should definitely give this a go.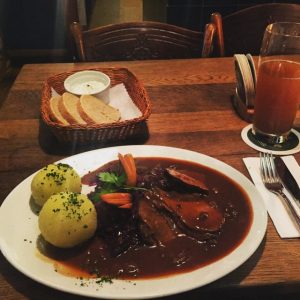 Final words on Berlin Food
I don't think Berlin has a great traditional German food scene*. You'd do much better with traditional German cuisine in the bavarian region, but make sure you get to a good old Brauhaus… this is Germany after all.
But that is not to say that Berlin doesn't have. Get some Thai at the Thai Park, or go multi-cultural with the Thursday street food market. But my personal favorite, the Doner Kebabs is the quintessential staple food, with very good reason. Don't leave without getting your fix.
*Somewhat Important Disclaimer: To put things in perspective, I'm not talking about the avant-garde / Michellin starred chefs that are doing great things with German food. There's plenty of that going on in the city. Covering high-end restaurants and fancy cooking is not my objective for this blog. I'm just trying to capture the great food that people eat on a regular basis without spending a small fortune on a meal.