San Sebastián, in the Basque country of Spain, is the perfect town for someone like me.

The two beaches are gorgeous, and you can surf or learn to surf at one. Its a pretty small town so can walk just about everywhere. There are only a few things to see in the city. So as a tourist you're never in a rush. The people are very friendly. And the best-of-all… food here is one of the best in Europe, probably even the world. The food is firmly rooted in traditional Basque cuisine and it is so good. When I got here the receptionist told me that I can spend two days here and I will have seen everything that needs to be seen. Which is true…. but I'm not really here to see everything. I'm here to eat my way through this town… and there was no way that I could eat everything worth eating in two days. I ended up staying for five!
First of all, allow me to confuse you a little bit… Now that you know the difference between Tapas and Pinchos from Barcelona post. In San Sebastián you won't find any tapas. Everything that's bite sized/small portion is Pintxo (the language in Basque region is a slightly different than Spanish) and Everything that's regular size is Rationes (like a plate full of food). Here, you do have the option of picking up the food from the bar, but you should just order from your server/bartender. Because many of the pintxos are prepared after you order them.
There are 2 streets in the Old town are that are lined with bars and restaurants. Abuztuaren 31 Kalea and Fermin Calbeton Kalea with some more bars sprinked all across the old town. Everything is within a 5 minutes walk.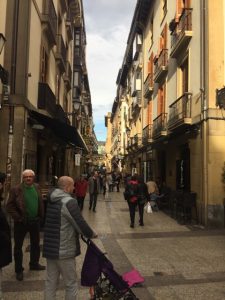 Pintxo Bars and what to eat
Now, its time to make your life very simple… I can tell you exactly which bars to go to and what to order there based on intensive research on trip advisor, pintxo tour recommendations and personal experience. So here's the list. Everything is delicious… but some things on this list are a little… let's say non-traditional food types (i.e. try at your own risk).
Goiz Argi – Brocheta de Gamba (Shrimp Brocheta)
Txepetxa – Anchoa con Cerillo (Anchovies and pepers)
Borda Berri – Kebab (trust me, This is nothing like a kebab but will be amazing) and Rissoto Idiazabal (which is the local basque cheese)
Txuleta – Corqueta de Txuleta (corquettes)
Cuchara de  Santelmo – Carrillera (beef cheek), Cochinillo (suckling pig) and Pigs Feet (must have)
GANORIA – Solomillo (Sirlion)
A Fuego Negro – Mini Hamburgursa (Hamburger)
Gambara – Setas (musrooms) and Txanguro (Crab)
Casa Vrola – Rodaballo (Turbot Fish)
Atari – Pulpo (Octopus) for 3-4 people
La Vina – Cheesecake & Pulpo (Octopus)
Nestor – Txuleton (t-bone steak)
Bar Sport – Foie Gras and anything that has pork in it.
How to burn a small hole in your wallet
San Sebastian has 16 Michelin stars, which the second most Michelin star per square kilometers of any city in the world (only to be outdone by Kyoto, Japan). There are seven three star restaurants in Spain, three of them are here. Juan Mari Arzak is a living legend, his daugher Elena Arzak is rated the best woman chef in the world. San Sebastion also has Andoni Luis Aduriz (Mugaritz), Pedro Subijana (Akelarre), Martín Berasategui (Martín Berasategui) and Andoni Luis Aduriz (Mugaritz). If you have money to burn on some very high end eating, you should come here. And make reservations in advance. I don't have that kind of money or any reservations, so I will skip the haute cuisine.
What to drink in San Sebastian
So many option and all so cheap. Definitely try the Txakoli wine and Cidre (Apple Cider) when you're here. La Rioja region is very close so you would do well to try the local wines from the region. All drinks at bars are usually less than 2 euros. So get your drink on.
Speaking of drinking you should also try the cider houses in Basque region. You order food which can be a little pricey but drink cider for free. All you can drink! And its a pretty unique experience where you have to catch the cider flowing from barrels 10 feet way in your glass.
La Brexta
If you are going to be in San Sebastian for a few days, you should learn a thing or two about Basque cooking. To get your ingredients you should go to La Brexta Market. Here you will find the local cheese called Idiazabal which is very good. Jamon (ham) is of course very good here as well just like every where else in Spain.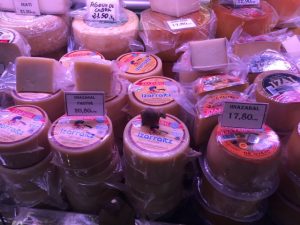 Basque cuisine is earthy and flavorful, made from the freshest of ingredients utilizing age old techniques. The style of cooking is worth exploring for all chefs and home cooks. San Sebastián overall is great little town. I will definitely come back here to take some surf lessons, learn Spanish and to cook basque cuisines.  In fact….I am already planning my next trip to San Sebastián. 🙂