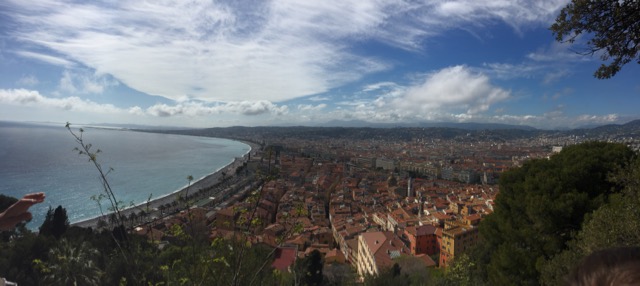 Nice is the biggest city in Cote d'Azur (Mediterranean coast of southeastern France), and is also probably the most reasonably priced. Reasonable is highly subjective. Cote d'Azur is the most expensive region in France outside of Paris, making it one of the more expensive areas in Europe. On your next visit Cote d'Azur, you would do well to make Nice your base since it's very easy to do day trips to Monaco, Mote Carlo and Cannes. But Nice has a decent number if things to see and more importantly local delicacies to try out…
While you will be spending time in other Cote d'Azur towns, here is how I think you should spend it, however limited it might be, Nice.
7am – 10am
Get to a good bakery and try their Beignets. If you are wondering what Beignets are… they are deep fried balls of goodness, kinda like American donuts or English Frites but much softer and hence better… The Chocolate Beignets are really great, but don't forget to try the Niçoise specialty…  Bignets de Fleurs de Courgettes made from the petals of the Courgettes flower.
While at the Bakery… order yourself a Pan Bagnat to go… Pan Bagnat is a gooey sandwich inspired from the famous Niçoise salad. Tuna/Anchovies, Tomatoes, peppers, onions, hard boiled eggs, police and olive oil. The reason you are asking this to go is because locals eat it as a picnic sandwitch… take Pan Bagnat and head to the beach. Walk the Promenade and find a nice spot on the beach to relax and enjoy your sandwich while staring at the pristine blue waters of the Mediterranean sea. If the water is warm enough go for a swim.
11am
Climb up the Castle Hill for a beautiful view of Nice and the Mediterranean Sea.
12pm
Stroll across the Old Town and find a small cafe hidden in the winding alleys and get your self a Crépe with some rosé wine or maybe an espresso.
1pm
Find a nice restaurant to eat local Niçoise cuisine… Acchiardo is highly recommended but is closed on Saturdays and Sundays and throughout the month of September… At Acchardio or any local restaurant that you find you should order the Farçis or Le Petits Farcis Niçoise as an appetizer. Farcis are hollowed vegetables stuffed with meat filling. This is a very local and mostly homemade dish but you'll find it in traditional restaurants as well. The vegetables used are usually peppers and tomatoes, but I am told that the best once are stuffed onions and mushrooms. Unfortunately, you won't be able to choose what kind you'll get if you're at a restaurant.
Important note on restaurant hours in Nice: Most non-touristy places (the ones that you want to go to) stay open for somewhat restricted hours… 12pm – 2pm for Lunch and 7pm – 10 pm for dinner. So plan accordingly.
How does ordering work in restaurants? We're the land of Prix Fixe menu… meaning you will get a few choices for a multi-course meal with a fixed price. i.e. You will pick an appetizer, an entree and a desert from a limited selection of items and the entire meal is priced together. The absolute minimum that you should expect to pay is probably18 euros, but if you're eating at a reasonably decent restaurant which is not expensive, you're probably paying 25 – 40 euros.     
2pm – 5pm
Head to Ezé Village which is 25 minute bus ride from Nice… roam around the steep cobbled streets full of really good art studios and eventually find your way to the Garden at the top of Ezé Village for an even more breath taking view of the Cote d'Azur.
6pm-8pm
Get to the Chez Pipo to eat another Niçoise speciality the Socca. Socca is made from chickpea flour, olive oil, salt and pepper baked over fire. No matter who you ask Chez Pipo is the undisputed best place to eat Socca in Nice. The lines can get a little long here in the summers. Closed on Sundays during the Summer and Mondays rest of the year.
9pm -11pm
Head to a wine bar or a live music bar in the Old districts. I went to Les Petit Loge owned by Jeremy and his wife Lauriane, both very knowledgeable on local wines and great people to talk to. The bar food here is pretty incredible as well.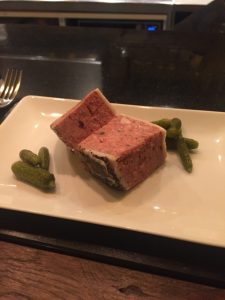 You can also go to Les Distilleries Idéales or De Klomp for some live music scene.
Nice or actually the whole Cote d'Azur region might be the prettiest place to be the world. The food is good but not the best I've had. If I come back here, it will be for the views and the weather. ( I hear Nice has 300 days of sunshine) but not so much the food. I do think that the produce here is excellent. So you also have to option of going to the farmer's market and buying fish fruits, cheese, bread wine and some meat. And that is what I would do if I'm staying here for more than a few days. 🙂