Making my way through the balkans I find myself in Tirana, Albania. I know nothing about the city (or the country for that matter) before coming here.
A friend asked me why I was going to Tirana and my response was "It has people, and they must eat something." So I came here on a whim and I am so glad that I did. Tirana turns out to be a pretty amazing city. There is definitely a lot to eat and drink. 🙂
Tirana is fairly modern city full of cafes, bars and restaurants. The city is full of brightly colored buildings during the day that are also beautifully illuminated at night. Speaking of lights I think Tirana has the coolest traffic lights that I have ever seen. Anyways, you find lots of locals walking the beautiful city late at night.
And the best part is… there are very few tourists in the city. Nope that's not the best part… the best part is Tirana is very very cheap. Probably the cheapest country in all of Europe.
Albania was a closed economy till 1992, because of years of isolationist dictatorship and communist rule. Now a young democracy, the country is still pretty poor but that is steadily improving every year.
For all the evils of dictatorship era, I guess the silver lining is that Albania has managed to maintain its traditions and culture intact. And this includes Albanian food. The Albanian cuisine is very unique and absolutely amazing. We see some Italian and Greek influence, but that is fairly new. I've heard that the city has two Chinese restaurants and the food there is nothing like Chinese food. Predictably the locals call it "Albanian Chinese". 🙂
Side note: Chinese food has to be the most locally adapted cuisine. There's American Chinese (General Tso, Orange Chicken, Chop suey and so on…), Chinjabi i.e. Chinese Punjabi (Chilly Chicken) and now Albanian Chinese (no clue what that entails). And none of it taste's anything like actual Chinese food. But I digress…
On to Albanian food. Here is what you should eat when you're in Tirana…
1. Roast Lamb dishes
Albanians love lamb! It's the predominant meat and that is exactly what you should have as well. And lots of it. I came across two types of roasted lamb dishes, the first one is the more usual marinated lamb roasted over fire. The other one is Lamb roasted with Yoghurt and eggs. I had never had this before.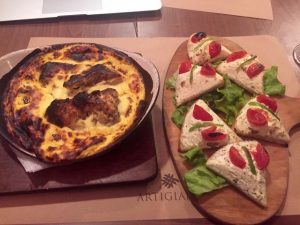 2. Corn bread with (or even without) Ricotta Cheese
Solid appetizer the corn bread isn't sweet and actually tastes like corn. The ricotta cheese will usually be homemade. Actually come to think of it you will probably get corn bread as table bread at start of the meal at most traditional restaurants.
3. Stuffed Aubergine and Peppers
Aubergine is stuffed with seasoned vegetables and pepper with rice and meat or cottage cheese. These two dishes are the best!! Coming from a meat lover that means a lot. You just can't go wrong with these.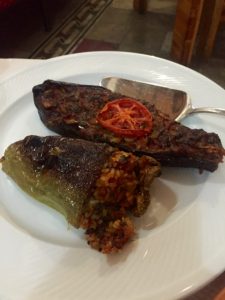 4. Cottage Cheese with peppers
Not only do Albanians  fill peppers with cheese, they also go the other way around and add pepper to their delicious homemade cottage cheese. Very very good!
5. Dolma
So I never got a chance to try the local Dolma but I've heard that It's very good. Guess I'm saving this one for Turkey. But if you find it in Albania or Bosnia you should give it a shot. The local talked them up a lot.
To Drink…
what else but Raki (same as rakia know as Raki in Albania)
Top 5 restaurants in Tirana…
1. Oda: Very traditional and authentic eating experience.
2. Era: Traditional with somewhat modern feel in Blloku area.
3. Artigiano: (Fine dining but reasonably priced) Italian + Traditional
4. Zgara Tirones: Traditional Grilled food. Very cheap, amazing food, very contemporary feel. I just loved this place!
5. Brauhaus: For some amazing local food with locally made beer. I loved meatballs here.
Quick note on ordering… Many dishes can be ordered in half, specially if they are listed by weight on the menu. For example, I think you should always order half stuffed aubergine and half stuffed peppers. Also, the traditional way to eat is ordering everything for the table and sharing.
Where to hang out in the evening… Blloku translates to "block" is a small area full of bars that are open till very late. Check out Radio, Duff, Charl's and Sky bar (only for the view)
Tirana is not a very big city, the best way to see is to just walk around. You'll find concerts and events going on close to the river at night.  Also, you should take the free walking tour doing the day. Gazi the guide is very good and knows a lot about the country.
I had an amazing time in Tirana! It was much more than what I expected. I would definitely consider staying for more than just a few days and would add it to any balkan / eastern european travel itinerary.